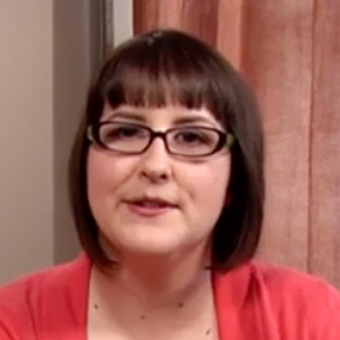 Neat Edges & Flawless Joins for Perfect Crochet
Linda Permann
Crochet artist Linda Permann shows you how to straighten out edges, replace missing stitches, link stitches to eliminate gaps while working flat or in the round, as well as how to create flawless, even edgings in this video.
To begin, Linda discusses how to fix the side edges of a crochet fabric. If the fabric is starting to get narrower as you work along, you might be inadvertently skipping working into turning chains. While it's easy to rip out crochet, if your project has a lot of stitches, it will take a great deal of time to fix the error. Linda takes a swatch and demonstrates how to fill in the side edge in such a way that it is barely noticeable when worked in the same color as the original crocheted fabric.
Linda then moves on to exploring linking stitches. She likes to use this technique between the turning chain and the first double crochet in a row. To link the two together, she demonstrates by chaining three stitches for the turning chain. She brings the crochet hook through the back bump of the second chain, works a yarn over and pulls up a loop. This counts as the first yarn over for the double crochet. She then works the rest of the double crochet stitch. The turning chain and the double crochet stitch are now linked together, which makes for a neater edge. She also explores working linked stitches in the round.
To end the video, Linda works stitches along the edge of a swatch, one that has some corners to turn. She shares her tips and tricks for working along an edge so that the stitches don't pucker or ruffle. When working an edging down the side of a crochet piece, her rule of thumb is:
Single Crochet: Add one stitch per row
Half Double Crochet: Alternate one and two stitches per row for a total of three stitches every two rows
Double Crochet: Add two stitches per row