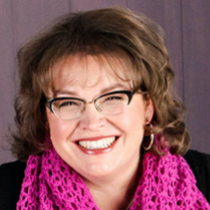 Color Patterns With Crochet
Marly Bird
Spice up your crochet with fantastic patterns and vibrant yarns. Designer Marly Bird teaches you to work chevrons (sometimes called ripples) as well as the whimsical Catherine's wheel pattern.
Marly begins by explaining the construction of a chevron (or ripple) stitch. She examines the chart for the stitch pattern and then begins crocheting a sample of a single crochet chevron pattern. When working a chevron, Marly adds stitch markers to mark the increases that happen in the row. This acts as a visual cue on her project as to where the increase is going to take place.
Once a row is nearly complete, Marly prepares to change colors. She works the final stitch, stopping before the final step. With two loops already on the hook, she places the new yarn on the hook, which acts as the yarn over, and she draws through the final two loops to complete the stitch. By joining the new color in this manner, it allows for a clean, crisp edge that doesn't leave one color bleeding into another row of a different color. Once the swatch is complete, she weaves in her ends and then looks at several examples of chevron patterns.
After exploring the chevron patterns, Marly looks at the colorful Catherine's Wheel. Like the chevron motif, she examines the chart and explains how it is worked. She notes that it's similar to the chevron in that it has peaks and valleys; however, the overall look is quite different. Instead of having sharp angles, there is more of a rounded look to this stitch pattern. This effect is created by working 7 double crochets into one stitch and working a large decrease, dc7tog (decrease seven stitches together) into another. The yarn color is changed every two rows to maximize the star power of this stitch.